A5 bonded motivational planner in Dutch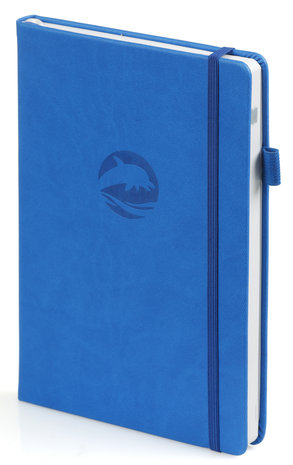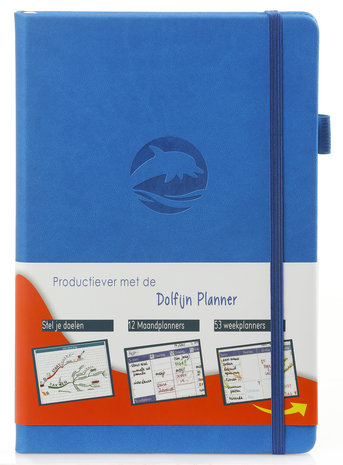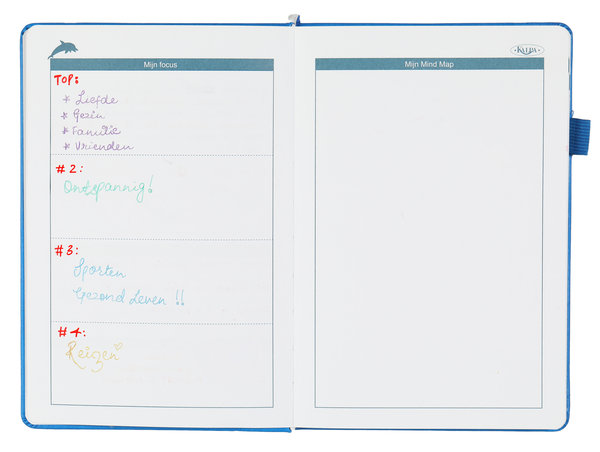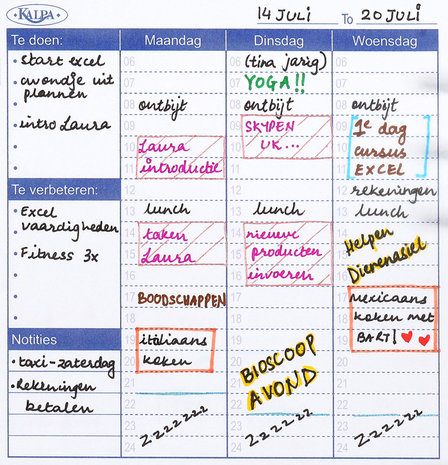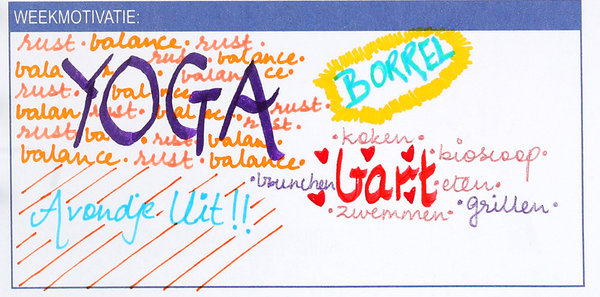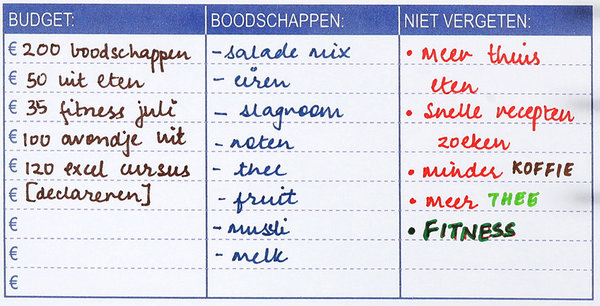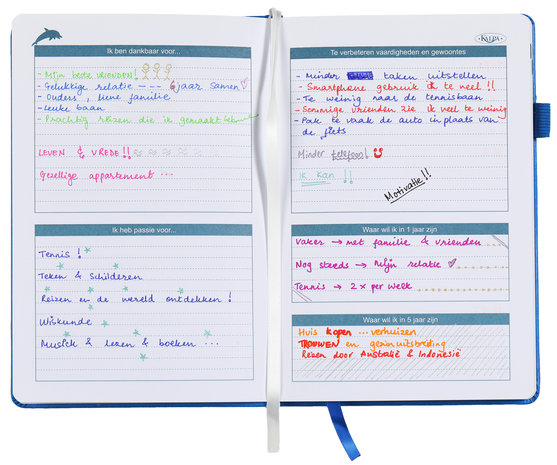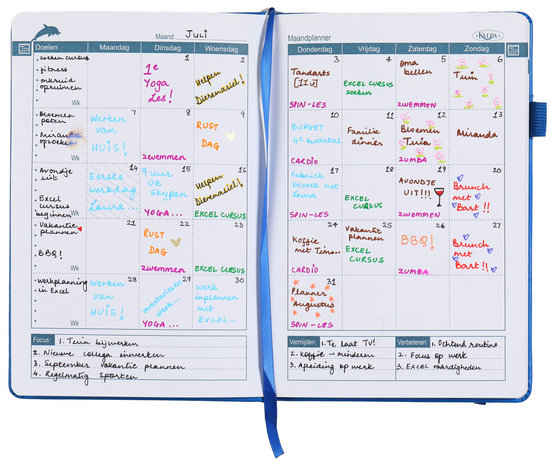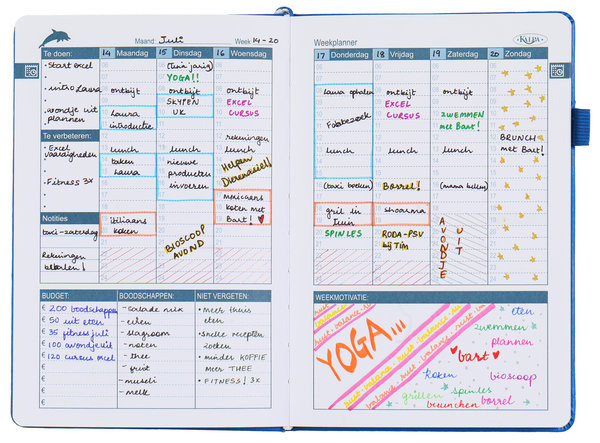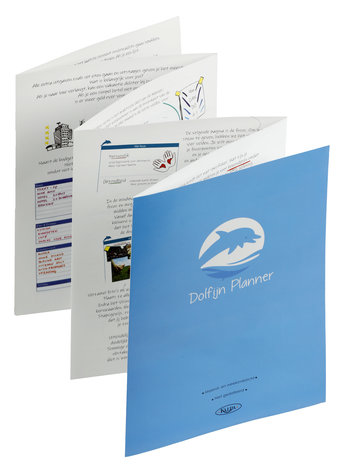 Product description
This product is currently only available in Dutch   This product is currently only available in Dutch   How to use the Dolphin Planner You can straight away go to the monthly and weekly planner. But for most people, it is helpful to first think about what you want to accomplish. It is essential to think about what is special in your life ...
This product is currently only available in Dutch
This product is currently only available in Dutch
How to use the Dolphin Planner
You can straight away go to the monthly and weekly planner. But for most people, it is helpful to first think about what you want to accomplish.

It is essential to think about what is special in your life and improve on that. So on our first page, you can write what you are grateful for and what is your passion. Your passion is very personal. You can be thankful for your relatives, for the talents you are gifted with, for the things you have accomplished at school or work, or all the help you get.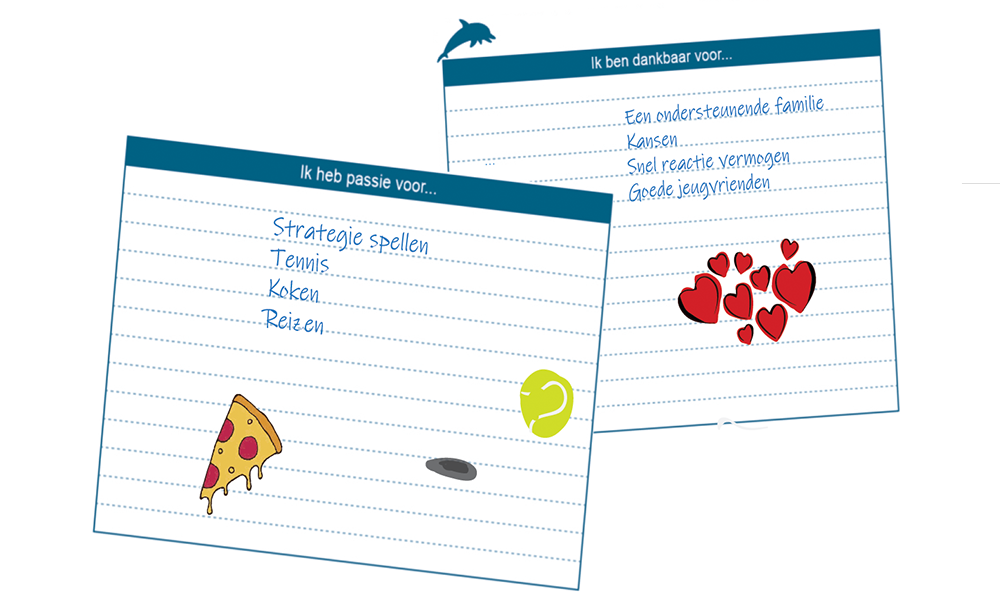 The passion is about things you most like to do. Maybe you love playing certain games, to take care of others, travel to new places.
On the second page, you get a bit more specific. What are your skills? Those are the things that other people admire you for because you do them so well. A skill is 30% talent and 70% practice. Improving your habbits can help here.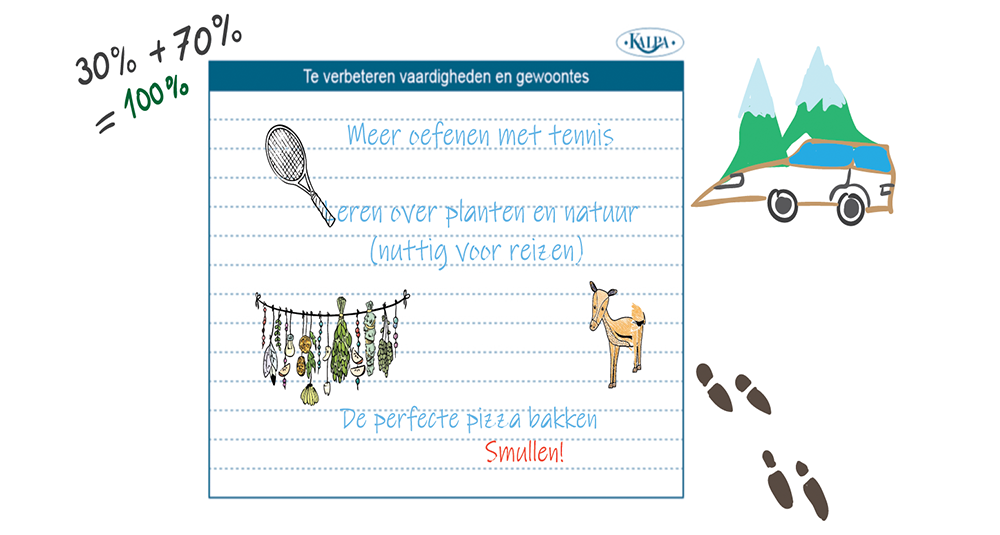 Those points you summarise in the next two blocks: Where I want to be in one year, and wherein five years. Maybe not exactly in one and in five years, but a short period and the long horizon.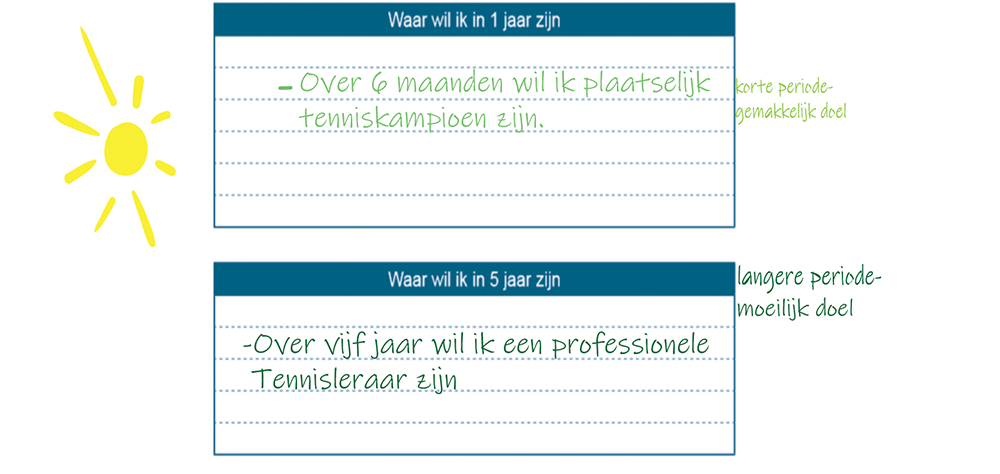 The next page is the focus. To give some support, we have divided it into four fields. You might want to include some of your focal points on your personal life and health, and others to your work or study. Maintaining a balance between them is very important.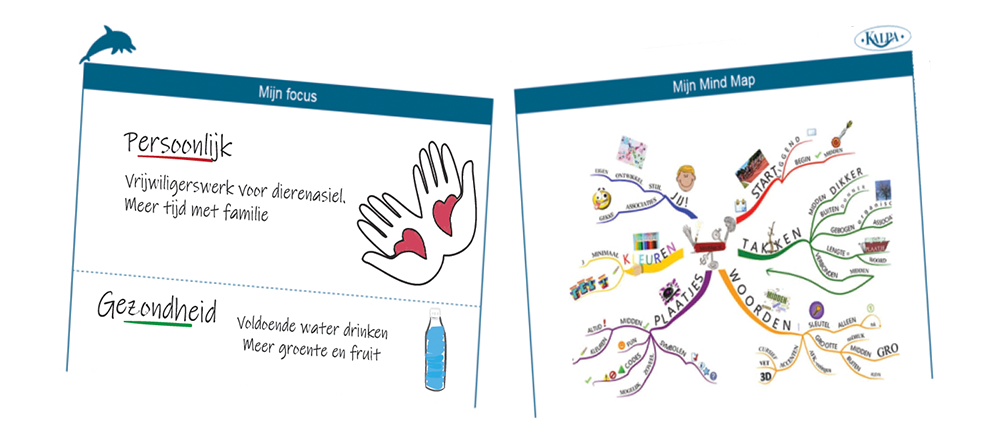 In the mind-map, you connect your goals, focus and possibilities. Start in the middle with your primary goal(s). From there break it down in achievable steps. Make sure it is colorful so that you can visualize your goals. 
Setting up a vision board is a process. Take time to do it right.
Ask yourself:
What do I want?
What do I need?
What do I value?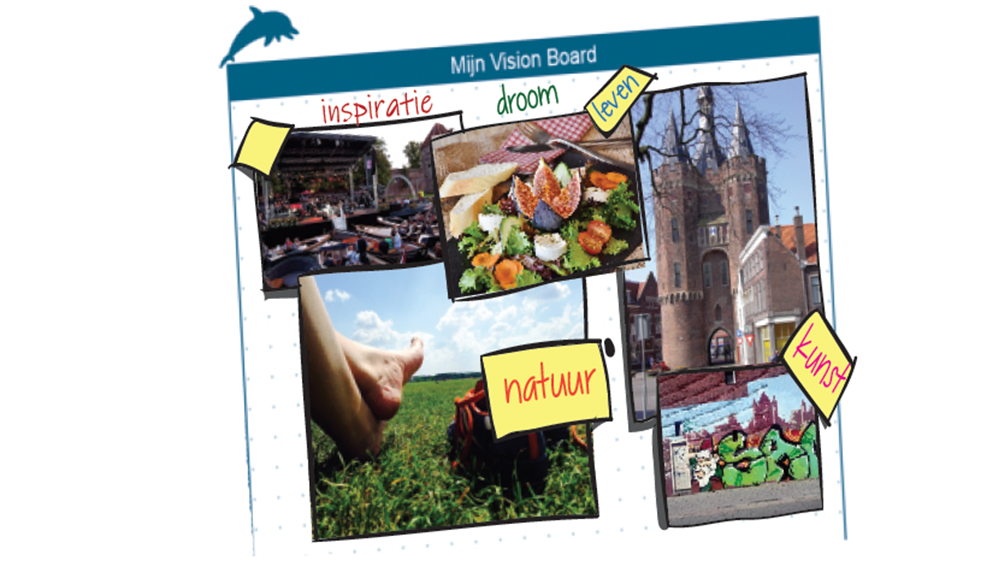 Now you have put yourself on a forward path. Now it is time to plan your months, weeks and days.
In the monthly planner, you can fill in the month on the upper left side page. In the left column, you can fill in the week-numbers. Some people prefer to start each month with week number one. Others prefer to use the week-numbers of the year from 1 to 53. In the first columns you write which goals you would like to accomplish for that week. Be modest in your goals and remember. A goal is nice to reach, but don't blame yourself if you do not achieve it.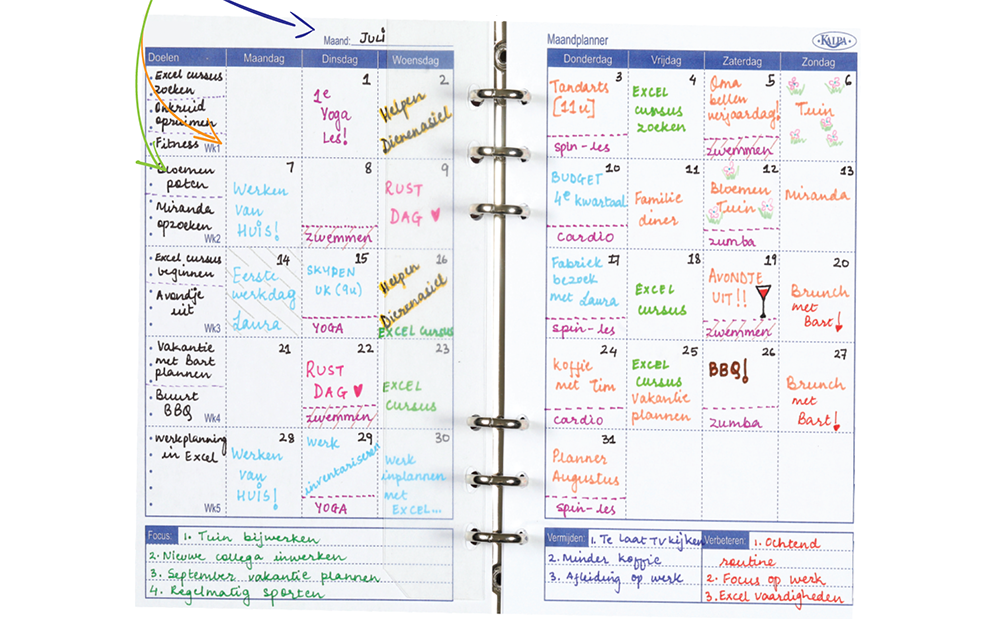 At the bottom of the monthly planner, you can fill in the goals of this month and which things you want to avoid and improve.
At the right top corner, you can fill in the dates. Now you are ready to plan your month!
Coloured pencils make your planner more bright. But you can also use them to give each type of activity in a different colour. You can apply for example green for your health-related items, blue for work and red for all private matters.
Do not forget to use some cute stickers or make your drawings; a flower for working in the garden, a giftbox for birthdays and a sun for your holiday in a warm country.
The weekly section is the more practical part of the planner. Fill in the month and week number on the top of the page, and the dates of each month in the light fields, before the days. Each day has a handy time-column from 6 to 24 hours, so there is also plenty of space to plan your evening activities.
On the right side of the page, you will find a few convenient spaces — the To Do list with things that must get done this week. To improve, for the specific skills you want to focus on. Maybe in your general goals, you want to work on your PC skills, especially on Excel. In your monthly planner, you write which part of excel. In the weekly "to improve", you could write which specific formulas you want to practice. But this also can be personal improvements.
The box reminders can sever many practical purposes. You can write birthdays of the week, which is essential to you, a passport to renew, etc.
The bottom boxes are useful bits of help. You can plan your budget for daily shopping or your outings. In the groceries, you can mention your non-daily shopping items.

At the end of the second page, we left an extensive area for the motivation of the week. Some might like to fill this at the start of the week. But it is also a great place to review what great things you have done and what made you happy during the last week.

Remember that positive energy helps you forward. Each person is unique and special. Find out what makes you special and get the most out of you with the Dolphin planner from Kalpa.
How to use the Holiday Planner
Holidays are fun. With the Dolphin Holiday Planner, the fun already starts with your preparations, and you make sure you get the maximum from your holidays.

The holiday planner consists of 2 pages. You can start of course with the destination, the days of travel and the dates. If you are not sure, use a pencil so that you can erase any entry easily.

Holidays always seem more expensive as planned. With a balanced budget, you will not have unexpected disappointments.
The Dolphin Planner breaks up your expenses in 3 parts; Basics, Food and Drink & Entertainment. Usually, most of the money will go into the basics, because it includes the trip and the hotel.



Next, to the budget-column, there is an extra column for your actual expenses. Not everybody will use this because you do not want to do 'accounting' on your holidays.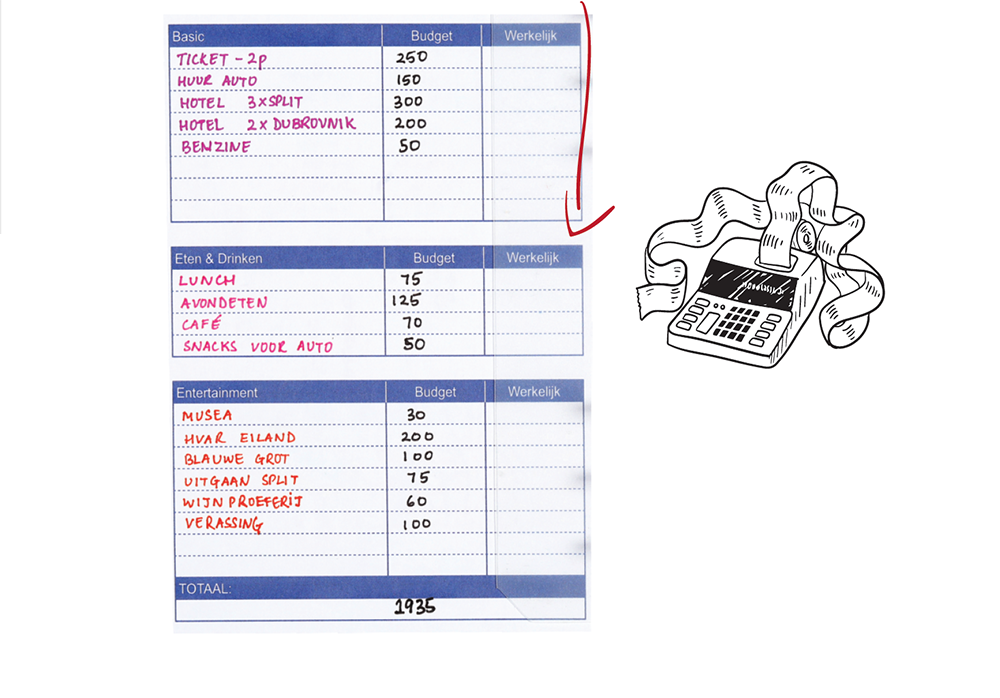 Most people that do last minute unplanned packing forget a few items. If you make a list of things you want to take with you, it is effortless to tick the boxes, while packing your bag. You can leave on a relaxed holiday, and you do not have to buy essentials at the destination for a higher price from a brand you do not know.

The bottom part of the right page is the most fun. You can make a list of things you want to do or visit. Then there are the restaurants you want to attend. And there is a handy place for the local apps. Depending on your interest, thousands of applications are available to help you to get the most from your holiday.
On the backside are two pages with pullet points pages for making extra notes. In case you only want to take your holiday-planner with you, just take them out, and you leave your planner home.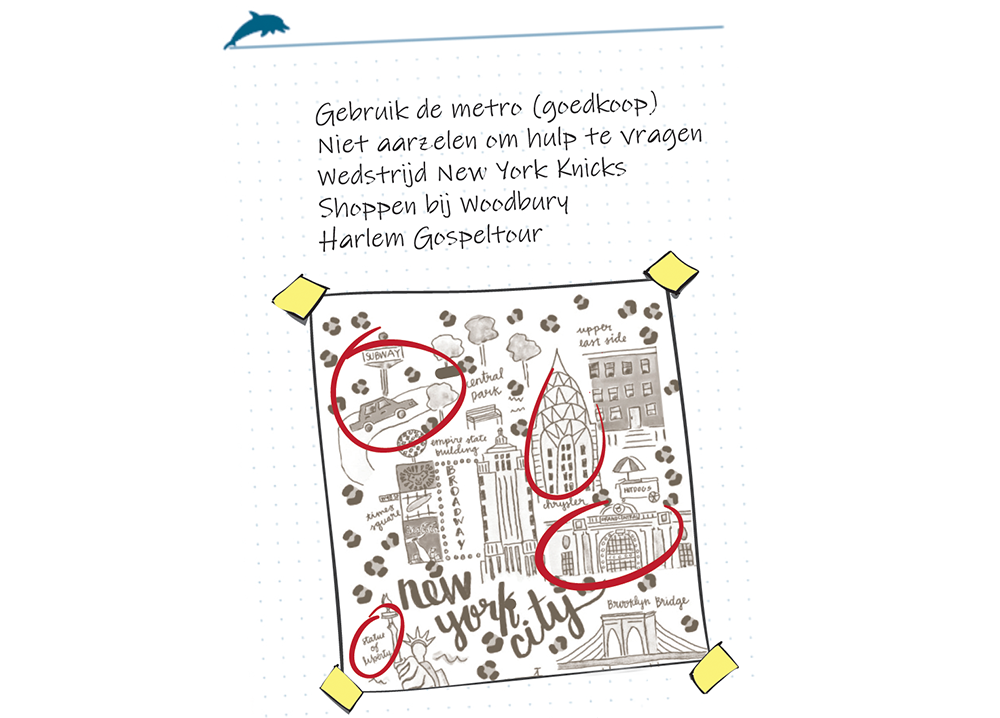 Show more
Show less
Product specifications
Article number

6627-00

SKU

6627-00

EAN

8719489010661